SETBACKS AND BULK THE PERFORMANCE APPROACH
The objective may be achieved by application of the performance criteria listed below:
(1 ) Walls are sited and are of such length and height that there is no significant loss of amenity to adjacent dwellings and land. This can be achieved through:
Setbacks that are progressively increased as wall heights increase to reduce bulk and overbearing.
Building siting and height that are related to land form, with minimal cut and fill
Building forms that enable a sharing of views with neighbours
Building bulk, that is generally distributed to reduce impact on neighbours and on the public street.
Building heights similar to those in the public streetscape, with higher buildings sited behind and out of direct view from the street.
Building to the boundary, which maximises privacy for neighbouring dwellings and their private open space.
Boundary walls, limited in length and height, to minimise the impact on neighbours
Adequate separation between facing dwellings for privacy.
SETBACKS AND BULK THE PROVISIONS APPROACH
(1 ) Buildings should be sited within a building envelope determined by the following method. Planes are to be projected at 45° from a height of 3.5m above natural ground level at the side and rear boundaries, to a maximum height of 12m. Where the site abuts a public street, the envelope should have a street boundary height of 12m, with the building height in this region determined by streetscape criteria above.
(2) A side or rear boundary setback with a 1m minimum should be provided where the wall is not built to the boundary.
BUILT TO THE BOUNDARY:
(3) Walls may be built to side and rear boundaries where:
maximum wall height is 3.5 m unless matching an existing or simultaneously constructed wall.
maximum wall length is 50% of each of the abutting property boundaries, where there are no existing boundary walls.
maximum wall length matches existing boundary walls, plus 50% of the remainder of each abutting property boundary.
ALLOWABLE ENCROACHMENTS TO ENVELOPE
Provided the distance to the boundary is not less than 1 m space, fascias, gutters, downpipes, eaves up to 0.6m, masonry chimneys, flues, pipes, domestic fuel tanks, cooling or heating appliances or other services may encroach beyond the building envelope The following may encroach without restriction:
Pergolas, screens or sunblinds, light fittings, electricity or gas meters, aerials
Unroofed terraces, landings, steps or ramps not more than 1m in height.
See diagram below:
DIAGRAM
THE BUILDING ENVELOPE EXTENDS FROM THE SITE PERIMETER WITH BUILDING HEIGHTS TO THE PUBLIC STREET FRONTAGE DETERMINED BY STREETSCAPE CRITERIA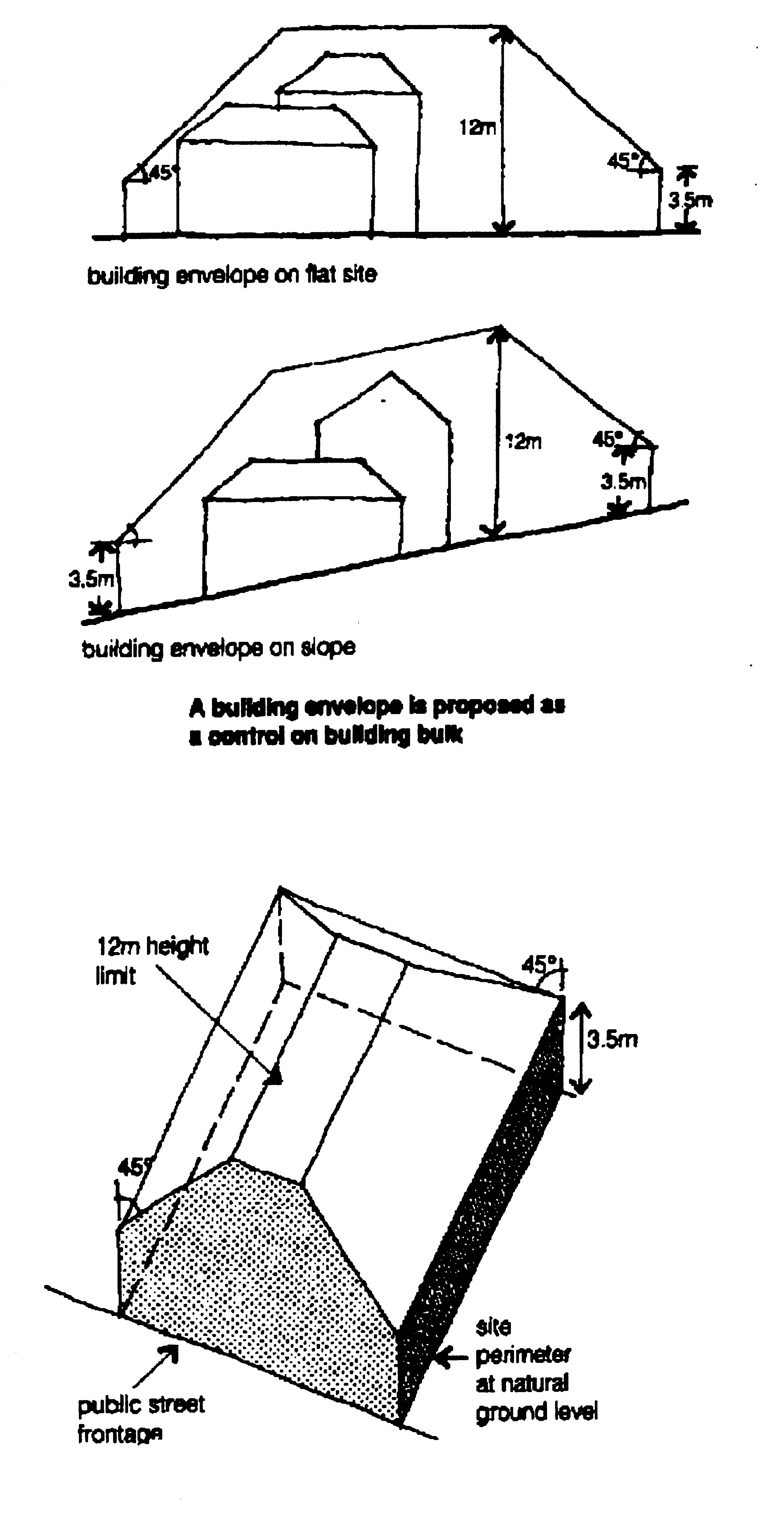 PRIVATE OPEN SPACE THE PERFORMANCE APPROACH
The objective may be achieved by application of the performance criteria listed below:
(1) Private open space is clearly defined for private use
(2) Private open space areas are of dimensions to suit the projected requirements of the dwelling occupants, and to accommodate some outdoor recreational needs as well as providing space for service functions.
(3) Part of the private open space is capable of serving as an extension of the function of the dwelling for relaxation, dining, entertainment, recreation and children's' play, and of being accessed from a main living area off the main dwelling.
(4) Provision and location of private open space take account of user requirements for privacy, outlook, and nearby public open space as well as the natural features of the site.
(5) Orientation of private open space helps to achieve comfortable year round use.
PRIVATE OPEN SPACE THE PROVISIONS APPROACH
(1) AT GROUND PRIVATE OPEN SPACE: Private open space for the dwelling should have a total minimum area of 35m2, where:
The minimum dimension is 3m
One part of the private open space is the principal area. This area should be not less than 16m with a minimum dimension of 4 m. It should be steeper than I in 20 (5%) and should be directly accessible from a living room of the dwelling.
Screening should be provided where appropriate, to ensure privacy to the users of the open space.
(2) AT ABOVE GROUND LEVEL: The principal private open space of the dwelling should be provided in the form of a balcony having a minimum area of 8 m2, and a minimum dimension of 2 m with direct access from a main living room of the dwelling.
ENERGY EFFICIENCY THE PERFORMANCE APPROACH
The objective may be achieved by application of the performance criteria listed below:
(1) Buildings are sited:
In temperate climates, to maximise solar access to the north facing wall, having regard to slope, views, existing vegetation and overshadowing.
In hot humid climates, to maximise use of cooling breezes.
(2) Building envelopes and internal layouts are designed to minimise use of fossil fuel for heating and cooling. (3) Building windows are located, sized and shaded to facilitate thermal performance
(4) Buildings have an area of roof with appropriate orientation and pitch that is suitable for the installation of solar collectors.
(5) Building materials and insulation are selected to assist thermal performance
(6) Air movement within dwellings is designed to reduce use of fossil fuel and to improve comfort levels.
(7) Landscape design assists in microclimate management for the reduction of fossil fuel use and the conservation of water.