OTHER COMMON TREES

ROSEWOOD (heterodendron oleifolium)
Found throughout the Slopes and Plains. Rosewood varies from a scraggly shrub to a medium tree. The leaves are greyish green, 4cm to 10cm long. The flowers are small and fruits may be up to 1cm in diameter.
WHITEWOOD (atalaya hemiglauca)
The Whitewood has ashy leaves and scaly bark. It grows best on coarse sands and clay loams.
WILD ORANGE (caparis mitchelli)
A small compact bright green tree. Wild Orange grows chiefly on clayey loams. The leaves are rounded, from 2-5cm long.
WHITE GUM (e rossii)
Also known as Snappy Gum or Scribbly Gum. This gum is usually found growing on granitic or sandy soils. The White (scribbly gum) is striking tree with a large, smooth and ghost like trunk. It has spreading branches with drooping branchlets. Ironbarks and bloodwoods are unable to compete against it in native stands.
BLOODWOOD (e trachyphloia)
This tree occurs on sandy soil and dry ridges. Buds and foliage are green or slightly ashy coloured.
NON EUCALYPTS WITH TRUE LEAVES
SMALL PALE GREEN TREE
Leaves narrow, 8-15 cm long. Fruit egg shaped. One shiny black seed - WILGA (geijera pareviflora). Wilga is a very palatable tree and when growing is grazed areas is neatly trimmed underneath at sheep head height. It grows well on deep sandy soils.
STOUT STEMMED TREE
Large dark green leaves. Seeds up to 8 cm long - KURRAJONG (brachychiton populneum). This tree will grow in a large range of areas from good well drained agricultural soil to the exposed edges of cliffs. The foliage is highly palatable although the seeds are poisonous. Despite severe lopping and pruning by graziers during periods of drought, Kurrajongs recover well and thrive. They are often found where there is a high level of calcium in the soil for example, on limestone outcrops.
RADIATA PINE - Pinus radiata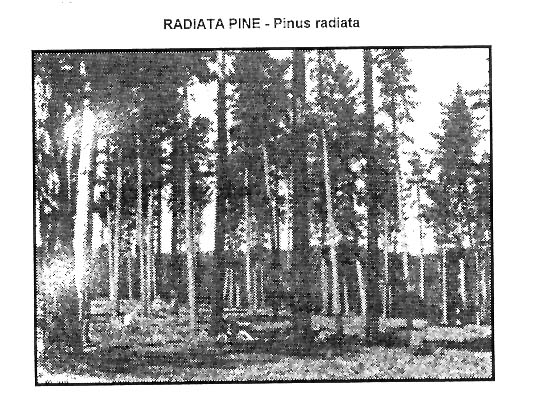 2