IRONBARKS
IRONBARKS have a clean tall trunk with upright but sparse branches. The bark has a rugged black grey appearance. As it name suggests, it is a very good and hard timber.
SILVER-LEAVED IRONBARK (E MELANOPHLOIA)

Leaves broad, silvery, opposite and stalkless. Relatively short trunk and spreading crown. - This ironbark commonly occurs on dark, fertile soils derived from basalt although it will also grow on stony soils or shallow clays. The presence of SILVER-LEAVED IRONBARK is almost always an indication that there is ironstone in the soil.
BLUE-LEAVED IRONBARK (E FIBROSE)

Leaves narrow, ashy coloured, generally a small tree. Leaves alternate. Fruit 6-12mm - This is a tree often found on sandy soils or stony ridges. It does well on skeletal soil and often grows in association with BLACK CYPRESS PINE.
NARROW-LEAVED IRONBARK (E CREBRA)

Leaves long and narrow, dull green, alternate and stalked. Fruits small, 4-5mm - The Narrow-leaved Ironbark is a tree of deep sandy soil' flat or slightly undulating topography and is often mixed with White Cypress Pine. The timber is very hard and was used for railway sleepers and bridge construction. It is still used for fence posts.
GREY IRONBARK - Eucalyptus paniculata
Courtesy: Jacaranda Press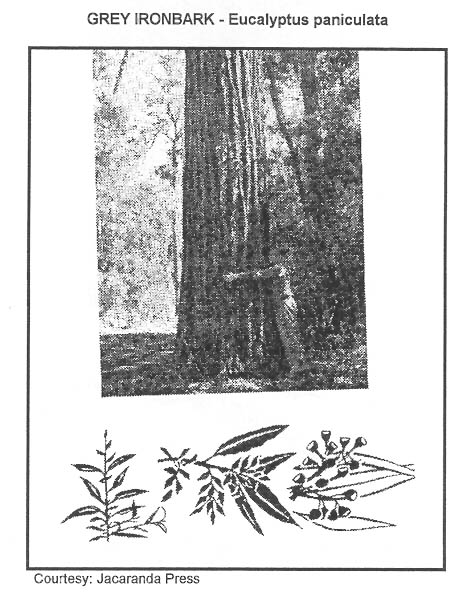 YOUNG IRONBARK PLANTED AS A WINDBREAK