eucalypts
If the tree has:
bark very hard, dark and corrugated - see IRONBARK

bark not hard and corrugated - see BOX.
EUCALYPTS species can be an indicator of soil moisture, one of the necessary factors for good agriculture. Gums are usually smooth bark eucalypts. There are about 400 different species in Australia but nearly all have restricted habitat. The most wide spread is the MURRAY RIVER RED GUM which occurs in all states but is only found along inland watercourses or areas subject to periodic floods. In any given locality eucalypts tend to grow in groups of species (an association).
EXAMPLE OF AN ASSOCIATION
For example, BLACKBUTT is often found on the north coast of NSW in pure stands. The New England Tablelands has the greatest variety of eucalypts but even here of the 48 species of which 40 can be considered common.
Eucalypts do not distinguish poor country from very poor country very well as they have a very low demand on soil nutrients. Associations is covered in rainforests.
DIAGRAM 1 FOREST RED GUM - Eucalyptus tereticornis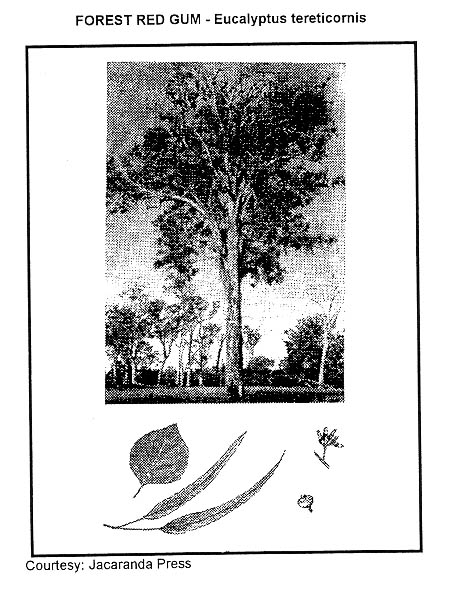 FLOODED GUM
The flooded gum forest is usually closely associated with BLACKBUTT but occupying fertile alluvial gully sites whereas the BLACKBUTTS occupy the adjacent slopes. FLOODED GUMS are found on the North Coast regions.
SPOTTED GUM
As with BLACKBUTT, SPOTTED GUM occurs naturally throughout the length of the NSW coast in areas of lower rainfall and where the soils have a heavier texture than for BLACKBUTTS.
DIAGRAM 2 SPOTTED GUM - Eucalyptus maculata
Eucalypts can also be roughly identified by location:
1. EUCALYPTS NOT FOUND ALONG RIVER BANKS OR ON A FLOOD PLAIN:
HILL RED GUM (eucalyptus dealbats)

Leaves and buds ashy. Rough bark partway up the trunk. This gum usually grows in dry places such as the tops of sides of hills or rocky ridges where the soil is shallow and sandy or stony. Often it is found in scrubby forests with WHITE CYPRESS PINE and IRONBARKS.
RED GUM

Bark blotched but smooth. More common on deep sandy soils - BLAKELY'S RED GUM (e blakely). This Red gum grows on the lower slopes of hills, preferably on deep sandy soils. It will also grow on flat areas, providing they are not too wet. The RED GUM has a tall smooth trunk with spreading branches but sparse foliage. It is a good hard timber.
2. LARGE EUCALYPTS ALWAYS FOUND ON THE FLOOD PLAIN
RIVER RED GUM (e camaldulensis)
The River Red Gum occurs along all the major river systems in inland Australia, often in pure forests. It grows best on silty soils that have clay underneath. It needs flooding before the seeds can germinate and begin to grow. They are particularly valuable in that they stabilize river banks and provide a good rich wildlife environment. Western stands of red river gum usually of only one species in rainfalls of about 380mm pa. The trees rely on periodic floods for moisture and therefore are found on riverside sites and streams throughout western NSW.
DIAGRAM 4 LEMON SCENTED GUM - Eucalyptus citriodora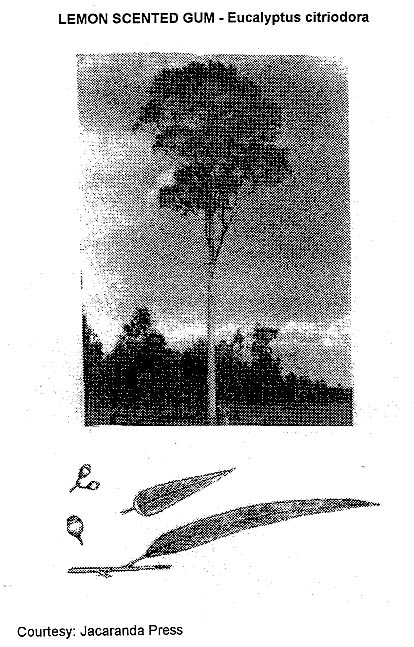 THE LEMON SCENTED GUM has a very strong citronella odour. It is a well shaped tree with a ghost like trunk and branches. It has a hard and somewhat greasy timber.