HISTORY
The dairy has been in existence since the late 1890s and early records show the herd comprising red poll and grade Jerseys. In 1910 the herd started to go predominantly Jersey with the use of stud bulls and in 1910-20 the first Jersey females were registered. The 1915 herd testing commenced and has continued up until today. Milking facilities were positioned near the feedmill and was moved to a new site in 1955 with the erection of an 8 stand walk through dairy. In 1990 a 12 a side Herringbone dairy was constructed on a new site at the cost of $185 000.
THE ENTERPRISE
The herd consists of 110 Holstein-Friesians and 4 Jerseys. The milking herds current production is averaging about 20 litres/cow/day. Herd averages for butterfat are around 230kg/cow and 6 200 litres of milk.
Land consists of 100 ha of pasture for grazing (rotated within paddocks at a practical distance from the dairy) and 120 ha of crop area top produce fodder for grazing and conservation. These areas produce an average stocking rate of about 8 dry sheep equivalents (dse)/ha. A typical small dairy layout is shown in the diagram below.
MANAGEMENT PLAN
AIMS
1. To be a financially profitable enterprise
2. To be a source of innovation within the industry
POLICIES
To increase milk production on a per cow and hectare basis by:
IMPROVEMENT OF FEED QUALITY

Improved management of grazing paddocks. Evaluating the potential of finding water for irrigation. Improved hay quality. Improved silage quality.
IMPROVED BREEDING PERFORMANCE

Synchronisation of oestrus at 6 weekly intervals. Regular vet herd health visits. Premating reproduction vet checks. Improved nutrition. More vigorous culling program.
IMPROVE THE GENETIC VALUE OF THE HERD

Using high rated bulls for milk, fat and total protein production. Increase the longevity of the herd. Using high type rated bulls. More vigorous culling program. Using high potential unproven bulls. Strengthen the influence of good cow families in the herd. A greater use of embryo transfer.
MORE EFFECTIVE USE OF LABOUR

Improve management skills for labour. Work program planning. Regular work routine. Regular maintenance program for all machinery to reduce downtime. Improve record keeping and information access for staff and management.
DIAGRAM TYPICAL FARM LAYOUT FOR A SMALL DAIRY
OVER 12 MONTHS
To lift the annual protein production to 240 kg/cow

Complete the renovation of support resources for the new dairy
LONG RUN
Develop an annual production sale of surplus heifers.

Improve the herd average up to 260 kg protein

Continue the improvement in record keeping with the assistance of computer technology.

Invest in more modern hay and silage making equipment

Construct a permanent silage unit within 5 years.
OTHER COMPONENTS OF THE DAIRY SYSTEM
FENCING
Subdivisional fencing is most important as the dairy farmer requires tight control on herd movement and grazing. The implement shed should be centrally located for easier farm operation.
WATER
Assured water and power supplies are essential for a dairy farm, both for stock and for irrigation purposes. For this reason "turkey nest" dams are common. This form of dam construction has been developed within the past 30 years and is particularly suitable for flat land and away from a river or creek.
Excavated earth is used for walls and the dam is filled by pumping water into it. Other dams may be built in a natural depression and water troughs should be strategically placed to water stock easily.
A diesel motor driven pump is used to pump water from a creek, dam or river for irrigation purposes. Traveling irrigators are used on pasture where the dairy farmer has an irrigation licence. They move at a predetermined rate across a paddock. The water pumped to the irrigator supplies the pressure to move the irrigator itself.
Good shelter is necessary to protect cows in extremely hot conditions and from cold winds. Without this protection, the cows' condition and milk production will suffer.
PASTURES
Pastures of rye grass and clovers often are grown to provide a well balanced, nutritious feed during periods of shortage of natural pastures, typically, during late winter months. Irrigated pasture is common on dairy farms although the varieties will vary. For example, a mix of rye grass and haifa white clover. Poona peas are an annual summer legume which provides good green feed when a lot of pastures are matured and dry because of dry weather. They are high in protein, improve soil fertility and produce a big bulk of feed per hectare. Maize is also popular as it is easily grown, provides a big bulk of feed and is good for silage.
It is often left to mature and the grain harvested for stock feed. Otherwise, handling the green crop requires special storage facilities and effort in harvesting and putting it into, and taking it out of storage for feeding.
PLANT AND BUILDINGS: Technology and modern design is most important so that any building or piece of equipment which is of an older, more inefficient design, will suffer 100% depreciation. The rate of depreciation is also very high from the normal wear and tear.
DIAGRAM LAYOUT OF A HERRINGBONE DAIRY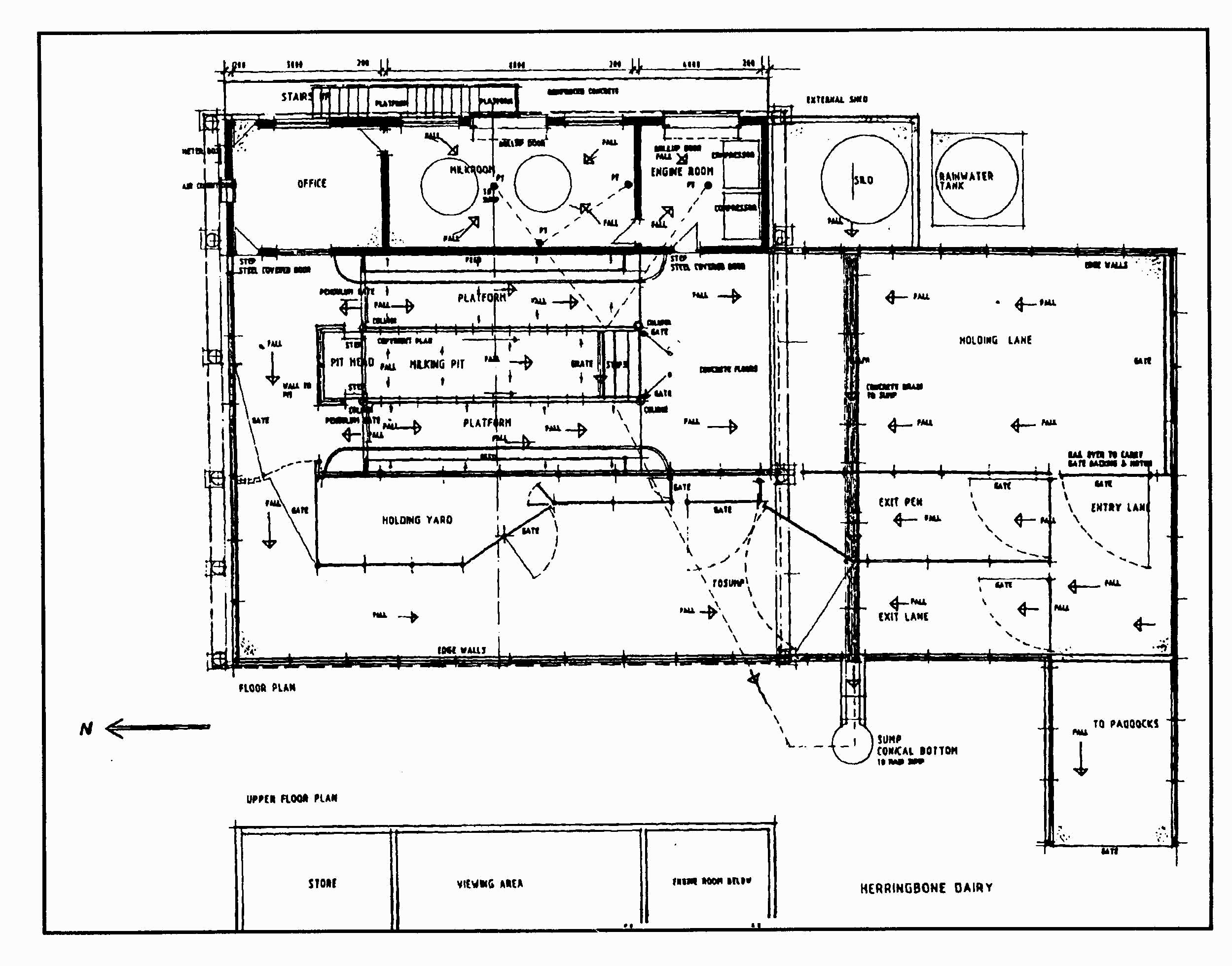 EFFLUENT PROBLEMS
Most dairies are located near urban centres and often within water catchment districts used for the supply of town water. For example, in the Warragamba, Shoalhaven and Upper Nepean Catchments of the southern highlands of NSW and the Mt Lofty Ranges near Adelaide. This has meant that new dairies and other density agricultural activities (such as piggeries)cannot be commenced increasing the value of existing dairies.
Such catchments require stringent control other effluent discharge which raises the cost of production and is a necessary inquiry by the valuer when valuing such dairies.
There may be financial assistance available from CaLM, EPA (administers the Clean Waters Act) and the Water Board (all NSW bodies). The assistance means that the dairy farmer may only have to pay about 39% of the cost of new controlling works. See diagram below for possible designs of effluent dams suitable for dairies.
An example of necessary upgrading includes the following works:
the old 10 metre wide laneways were removed and replaced with 4 metre wide lanes surfaced with built up road base material which extends about 700m each side of the fences. under this system cattle make no impression on the hard surface and pollution inside the dairy has been slashed.

damming a causeway to create a deep clean farm water supply and track to allow quick, clean access to the other side where there is a good paddock which was underutilized before the works.
DESIGNS OF EFFLUENT DAMS SUITABLE FOR DAIRIES