cattle species and breeds
There are two main cattle species:
The bos taurus is the European species. They have been developed into beef and dairy types with the Red Poll having a dual purpose.
The bos indicus is the Asian species and plays an important part in the genetic development of cattle suitable for Australian conditions. They will be covered later. Other species are hybrids; a cross between bos taurus and bos indicus.
BOS TAURUS
The most popular bos taurus breeds are:
SHORTHORN

The oldest English breed of beef cattle which can either have short stout horns or is a polled strain (hornless). It has a distinctive red, white or roan colouring. There is a wide variation of Shorthorn types with the presence of both Beef and Dairy Shorthorns and horned or polled animals. Such a wide genetic base results in differing maturity patterns and appearances enabling breed selection for desirable traits.
A recent increase in its popularity is due largely, to it being a "preferred" beef breed for the Japanese market. Numerous feedlots have sought Shorthorn steers to satisfy Japanese demand and regular shipments of live steers to Japan are being made
THE POLL SHORTHORN
HEREFORD ("Whitefaces")

The Hereford is one of the oldest European breeds but does not mature as quickly as the Shorthorn. However, It is hardier and better able to make use of rough feed - see diagram below. The Poll Hereford is a popular variation to the base breed.
THE POLL HEREFORD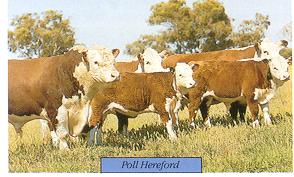 ABERDEEN ANGUS ("Black Poll")

The Aberdeen Angus is a Scottish breed which is black in colour and without horns. It is often called a Black Poll and is found in most parts of central and southern Australia. It is popular as a breeding bull over Hereford cows.
THE ABERDEEN ANGUS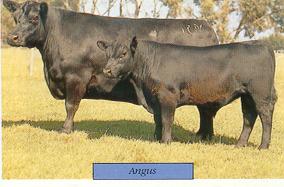 The Devon is not as large as the Hereford or Shorthorn but is very hardy and used as a cross with Shorthorns in the north.
BELTED GALLOWAY

A small and hardy animal from Scotland. It is naturally polled and has striking colourings of black, red or dun with a distinctive white belt. It is particularly suited to the colder and rougher parts of Australia such as the Tablelands and mountain country.
THE BELTED GALLOWAY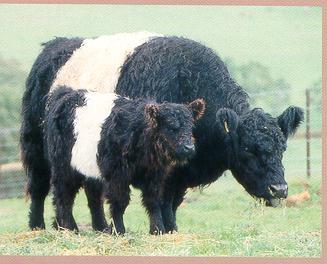 Other claimed advantages are high fertility, being small are most suitable for small farms, suitable for crossbreeding programs and produces high yielding carcases.
MURRAY GREY

As the name suggest the Murray Grey breed originated in the Murray region. The first animals were an embarrassment when they appeared in herds of black Aberdeen Angus in the upper Murray River Valley in 1905. It became apparent however, that these odd cattle grew quickly and had high quality meat. Local cattlemen were attracted by the Grey's size and appearance and developed the breed.
Being modern cattle, their size, scale, yield and the marbling of flesh without excess fat (which butchers demand) has made them one of the most popular beef breeds in Australia. It has become the most successful breed in Australian interbreed steer and carcase competitions.
THE MURRAY GREY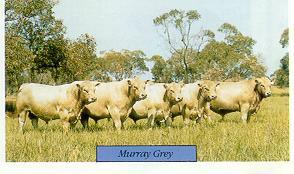 BOS INDICUS
Bos Indicus is an Indian or Asian species. Bos Indicus Hybrids are recognized by their distinctive humps on their back which is a feature of the Indicus. They survive well in very hot climates and in Australia have been crossed with Bos Taurus to produce hybrids suitable for the hotter parts of Australia. For example, the Braford.
THE BRAFORD
THE BRAHMAN
The Brahman is very leggy, slow to mature, and have a lot of loose skin around the neck, prepuce, and shoulders - see diagram below.
Therefore, the crosses are much better for Australian conditions, for example, the Santa Gertrudis. The Brahman has been successfully used in crosses with various Bos Taurus to produce heat resistant hybrids such as the Santa Gertrudis.
THE BRAHMAN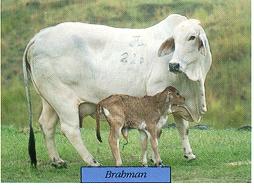 SANTA GERTRUDIS
King Ranch introduced registered purebred Santa Gertrudis in 1952 and since then it has become the most widely accepted Bos Indicus breed in the nation. The Santa Gertrudis is a cross between the Brahman and Shorthorn and produces some of the best features of both breeds. It is more heat resistant than the Shorthorn and more fleshy than the Brahman. Further, they suffer less from tropical diseases than do the European breeds.
It is a large beef breed with combined hardiness and beefiness. Other claimed advantages are few production problems, heavy calves at weaning, fast gain in feedlot or on grass, efficient feed conversions, high carcase cutability and salvage value and mature size allows for high salvage value on breeding stock.
THE SANTA GERTRUDIS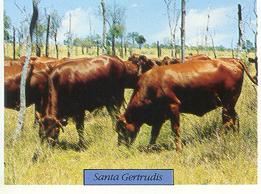 The proportions of the different cattle breeds in the Australian beef herd have changed between 1989 90 and 1999 2000 (TABLE 1), largely reflecting growth in the northern beef cattle herds and the product requirements of the feedlot industry and the growing live cattle export trade.
The proportion of bos indices / bos taurus cross cattle in the national herd increased markedly between 1996 97 and 1999 2000. The increase was driven mainly by the very large increases in cattle numbers throughout central Queensland regions, the Northern Territory and Western Australia. Bos indices / bos taurus cross cattle constitute the majority of the herd in these regions and the popularity of bos indices / bos taurus crosses has increased in recent years. In central Queensland, for example, beef cattle numbers are estimated to have increased by 40 per cent between 1996 97 and 1999 2000.
The majority of live cattle importers request at least 50 per cent brahman content and this requirement is reflected in an increase in pure bred brahman cattle from 8.8 per cent of the national herd in 1989 90 to 13.2 per cent in 1999 2000, a change predominant in the more northern beef producing regions.
The proportion of angus cattle increased from 4.2 per cent of the national herd in 1989 90 to 9.1 per cent in 1999 2000, and British breed crosses (especially angus cross) have increased from 1.1 to 11.0 per cent in that period. The latter increases reflected increased demand for these breeds.
TABLE 1 % COMPOSITION OF THE AUSTRALIAN BEEF HERD, BY MAJOR BREED AT 30 JUNE
| | | | | |
| --- | --- | --- | --- | --- |
| | 1990 | 1994 | 1997 | 2000p |
| Hereford | 26.7 | 22.1 | 19.7 | 11.2 (9) |
| Angus | 4.2 | 5.7 | 9.0 | 9.1 (16) |
| Other British breeds | 11.2 | 6.8 | 6.5 | 5.8 (22) |
| European breeds | 3.1 | 1.3 | 0.6 | 2.1 (23) |
| Brahman | 8.8 | 13.4 | 17.4 | 13.2 (13) |
| Santa gertrudis | 2.8 | 3.8 | 5.2 | 5.0 (20) |
| Other tropical breeds | 6.3 | 4.0 | 4.6 | 6.2 (19) |
| British breed cross | 1.1 | 9.6 | 11.0 | 11.0 (12) |
| British/ European cross | 7.4 | 5.2 | 4.2 | 5.5 (11) |
| Indicus/taurus cross | 22.8 | 19.2 | 14.6 | 26.4 (26) |
| Other (a) | 5.5 | 8.9 | 7.1 | 4.6 (22) |
| TOTAL: | 100 | 100 | 100 | 100 |
a Includes mainly dairy breeds used for beef production and dairy beef cross cattle. p Preliminary estimate.
Note: Figures in parentheses are relative standard errors. A guide to interpreting these measures of sample variation is included in 'Survey methods and definitions', as are explanations of other items.

The long term future of the Australian beef industry is promising in light of the strength of other rural commodities and reasonably strong beef prices. The opening of Japanese and Korean markets and comparative safety of beef production should lead to increased production particularly if the marketing campaigns to stimulate the consumption of Australian beef overseas are successful.